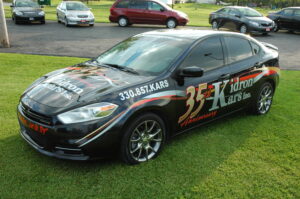 In 1980, Kidron Kars started in a former gas station in downtown Kidron , Ohio. Gordon Amstutz and his wife Lorene operated their new business fueled from Gordon's passion for cars and Lorene's bookkeeping abilities.  Gordon's dream for Kidron Kars came from working in sales at Stutzman Motors in Berlin, Ohio .  While employed there Gordon found many people coming from Dalton , Kidron, and surrounding areas to purchase a vehicle.  He left his employment to invest in his dream of Kidron Kars.
For the next 4 years Gordon and Lorene built rapport within the local, rural community.  In July 1984, they moved the business to it's now current location on Kidron road near US route 30.  It proved to be a wise move, due to the increased space and drive by traffic.
Gordon and Lorene led Kidron Kars through 25 successful years.  In 2005, Gordon retired.  He still stops in from time to time, but spends the majority of his days volunteering for several organizations. During his childhood, their son Blaine spent much of his time doing odd jobs at the car lot.  After graduating from Hesston College in Kansas he worked at several full-time jobs away from the family business which better equipped him for joining Kidron Kars.  For 10 years Blaine and Gordon worked side by side.  This proved to be a valuable time for Blaine to gain first hand experience from Gordon.  After Gordon's retirement, the management of Kidron Kars Inc. was passed on to Blaine.
Excellent Customer Service
Great prices on pre-owned vehicles
I worked for Blaine a little over a decade ago as a detailer and I have purchased 3 vehicles from Kidron Kars since then. I, can without a doubt, say he is the most honest used car dealer out there. He knows every detail there is to know about every car and doesn't hide anything.

Aaron Lehman